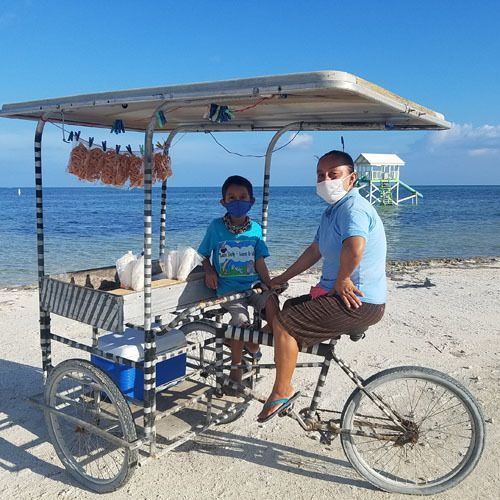 Gabriel, 11 years old in Standard 5, and Gary, 10 years old and in Standard 2, are students at Holy Cross Anglican School. They have lived on Ambergris Caye for 12 years with their mother, father and infant sister. Their father is unable to work due to back injuries and their mother, Martha, is a food vendor who was not allowed to work for the first four months of the pandemic due to legal restrictions aimed to prevent the spread of COVID-19.

Despite being unable to earn money, Gary and Gabriel's family did not qualify for assistance for months. Eventually, the family received staples from the local food pantry. Recently, Martha has once again been able to sell food. With the lack of visitors to San Pedro business is slow and doesn't always cover the cost of stocking her bicycle with the corn, fruit and chips that she sells on the beach and in the San Mateo neighborhood where the family lives. What money she does make, quickly disappears into daily expenses.
With her income greatly reduced, Martha is unable to meet all her costs and is facing mounting bills. Her cumulative utility bills are over $1000BZ now, and she worries about what will happen if the electricity is cut off. She's also had to help her father with medical expenses, and Gary has special dietary needs that are not met by the standard food pantry groceries.
Gabriel and Gary are grateful that school has resumed. They are adapting to learning from home but they look forward to being back in school with their teachers and friends. Gabriel is proud to help his mother as he looks after his younger sister when his mom and Gary go out to sell. While the past several months have been a struggle, the family is very grateful for the food assistance they receive from Holy Cross and from friends in the community who continue to buy from Martha.
The Holy Cross Education Foundation remains committed to reducing food scarcity and hunger among Holy Cross students. School is now back in session, even though our students are not physically on campus. The original goal of feeding Holy Cross students remains one of our most important components in growing healthy minds and bodies. Children who are hungry have a difficult time concentrating on their studies. To continue to feed our students, each week when parents pick up the learning packets for their students, they are offered a bag of pantry staples such as rice, dry beans, flour and oil. The bags are prepared by Ms. Rosalia and the "kitchen ladies."
Your gift allows us to offer this important outreach!